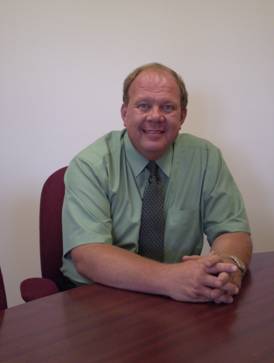 For Questions or Comments E-Mail Steve.Willard@k12.sd.us
The Future's So Bright
(I gotta wear shades)*
Greetings, I am excited for the future at the Belle Fourche School District. We have a visionary School Board, an experienced administrative team, and very talented teachers. The District has always been an educational leader and innovator. Our teaching staff has 38 teachers with Master's Degrees and 6 teachers with National Board Certification. They continue to challenge their students academically to be their best.
The District has embarked on a one-to-one computer initiative and this year every student from grades 5-12 will have their own school suppled laptop to use. This opportunity opens up the world of knowledge for students allowing teachers to use real life examples to reinforce lessons such as science, geography, history and art. They can take virtual tours of geographic areas around the world and observe historic reenactments. They can observe works of art by taking virtual tours of museums. The State of South Dakota's Bureau of Technology has "firewalls" in place to prevent inappropriate material from entering our technology. The School District also has firewalls installed within our network servers to protect our students. Technology is a tool that can enhance learning under proper teacher directions.
The District is also following the vision of Governor Daugaard in promoting Career and Technical Education (CTE). We have a very well rounded CTE program that offers career exploration in the areas of metal manufacturing, welding practices, child development, culinary arts, animal science, Ag mechanics, accounting, personal finance, wood manufacturing, carpentry, Computer Aided Drafting (CAD) and internship opportunities. The District offers these classes to students in grades 8-12. The students also have the opportunity to belong to the Future Farmers of America (FFA) and Family, Career and Community Leaders of America (FCCLA) where they learn and practice leadership skills through a variety of competitions. The School District has made a commitment to CTE by building a new Career and Technical Education Center to compliment the current CTE facilities.
You are welcome to visit the School District anytime. Stop by and have a cup of coffee and visit.
Sincerely,
Dr. Steve Willard
Superintendent of Schools
Belle Fourche School District 9-1
* quote from This line is from the song "The Future's So Bright, I Gotta Wear Shades" by Timbuk 3 from the album Greetings from Timbuk 3 (1986).