Do you know a teacher or staff member who is truly outstanding? Nominate that teacher or staff member for 2020-2021 Teacher of the Year or Employee of the year by filling out the nomination form and returning it to central office by March 23, 2021. The forms can be found at these links: Teacher:
https://5il.co/q93r
Employee:
https://5il.co/q93q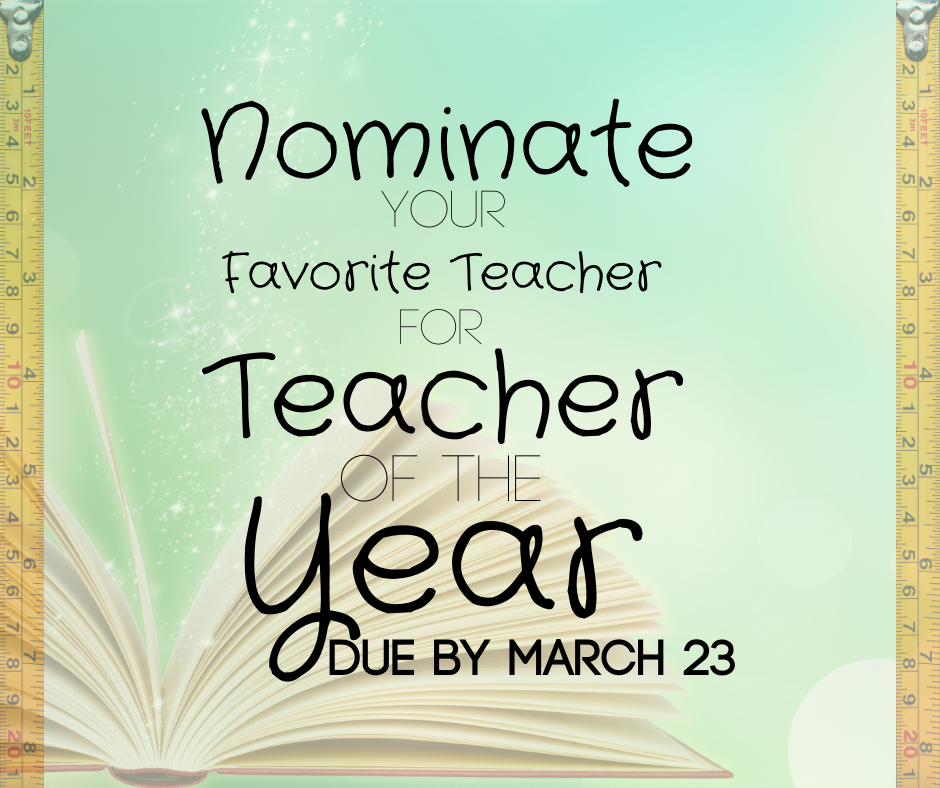 Congratulations to the students who were nominated for February Student of the month. Jadah Adamson, Garrett Gumm, Kimber Mills, Nevaeh Card, Addy Clem, Marcus Shannon, Jace Hiles, Renae Rosenlund, Braiden Wallace, and Chaisley Daniels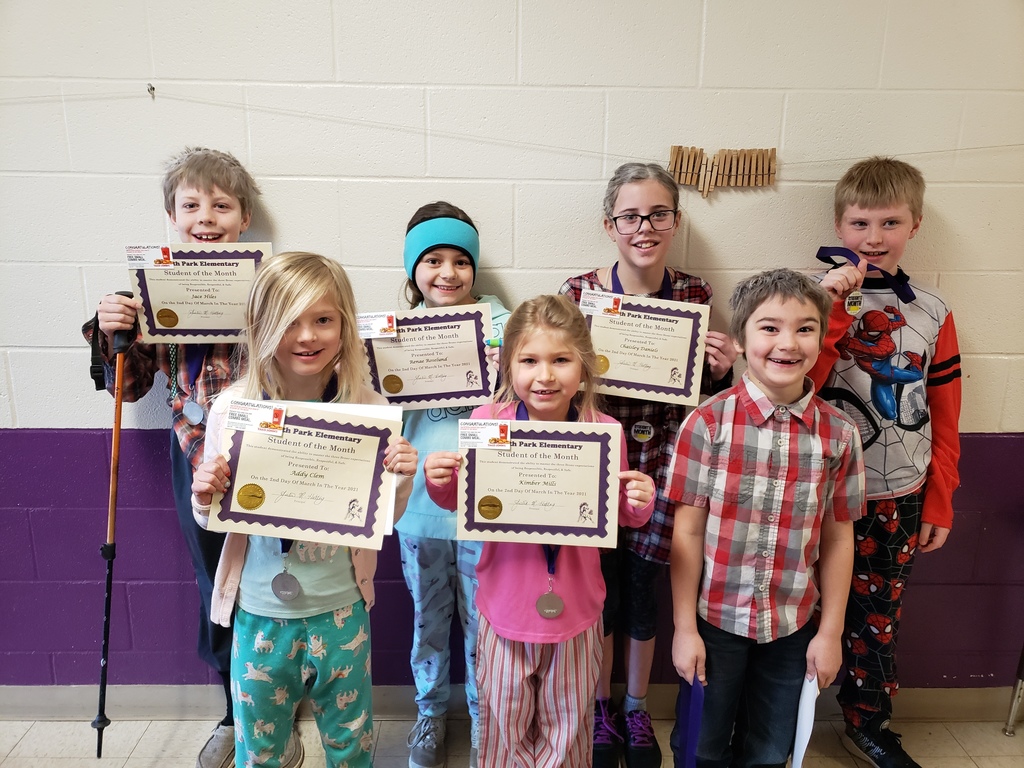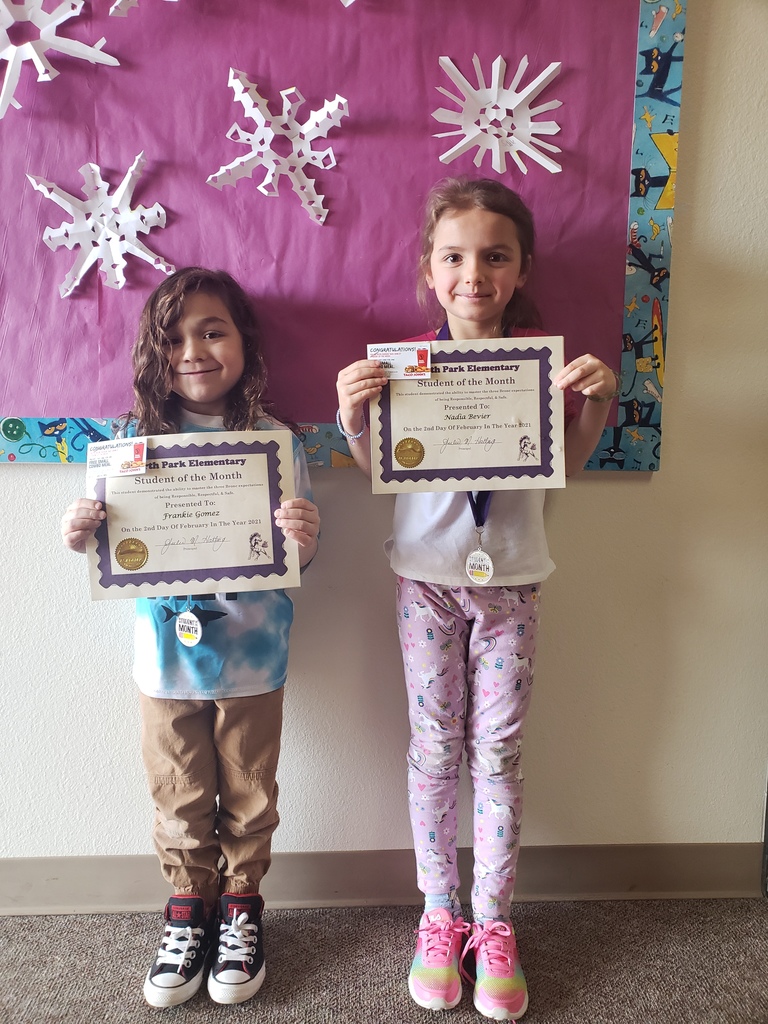 The South Dakota Statewide Family Center is a great resource! The following link has some really good tips to help you prepare your child for kindergarten. Belle Fourche kindergarten screening is March 15, be sure to make an appointment.
https://sdsfec.org/kindergarten-readiness/

Read Across America March 1-4 Monday—Wear Stripes and/or Hat Day Books: Cat in the Hat and On Beyond Zebra Tuesday— Wear Pajamas /Dress as 100 Year Old (100th Day) Books: I Am Not Going To Get Up Today Oh the Places You'll Go Wednesday—Wear Wacky Clothes (inside out, backwards, mismatched, etc) Book: Wacky Wednesday Thursday— Wear Crazy Socks Book: Fox in Socks
Due to forecasted extreme cold temperatures for Thursday February 11, 2021, all learning in the Belle Fourche School District will be done virtually. Computers will be sent home with all Elementary Students. Your student's teacher will be in contact with you via pre arranged communication method (Class Dojo, Remind, or email). This will be considered a day of learning and your children will need to complete tasks assigned by their teacher. Thank You!

Spring Picture Day is February 17, 2021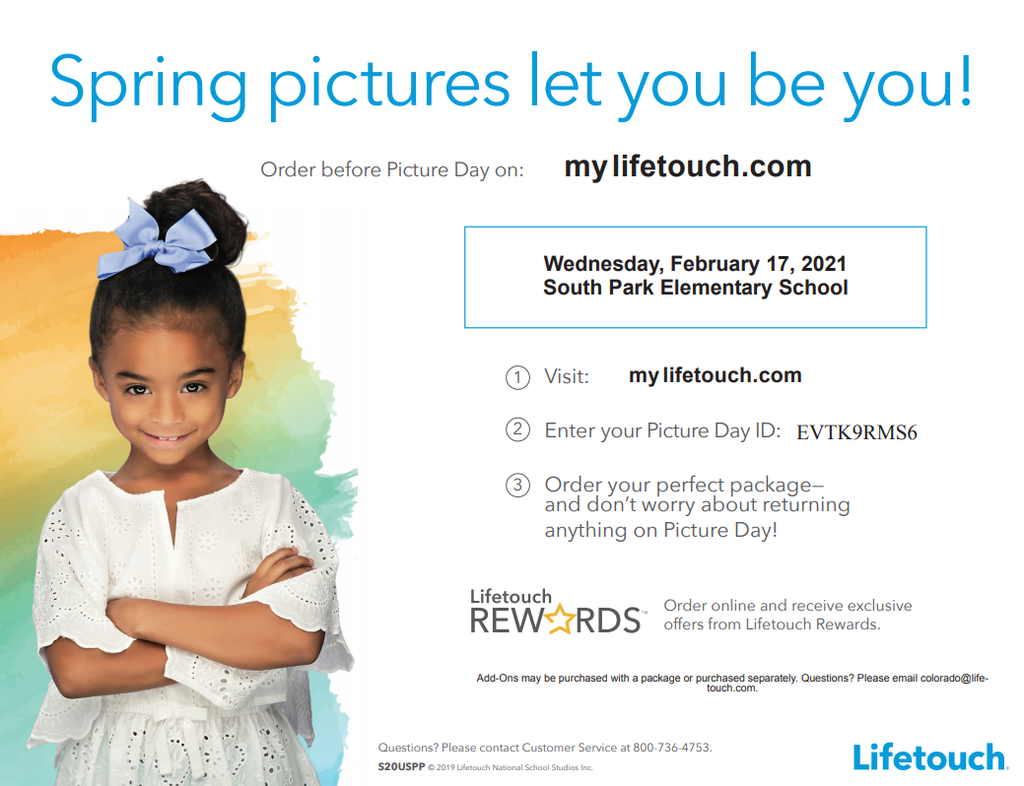 Congratulations to the January Student of the month winners: Nadia Bevier, Frankie Gomez, Brad Rosenlund, Bryn Coyle, Gracie Polk, Maycee Coffield, Cole Mailloux, Izaiah Ramos-Runyan, Oaklee Curtis, and Kynlee Jankord.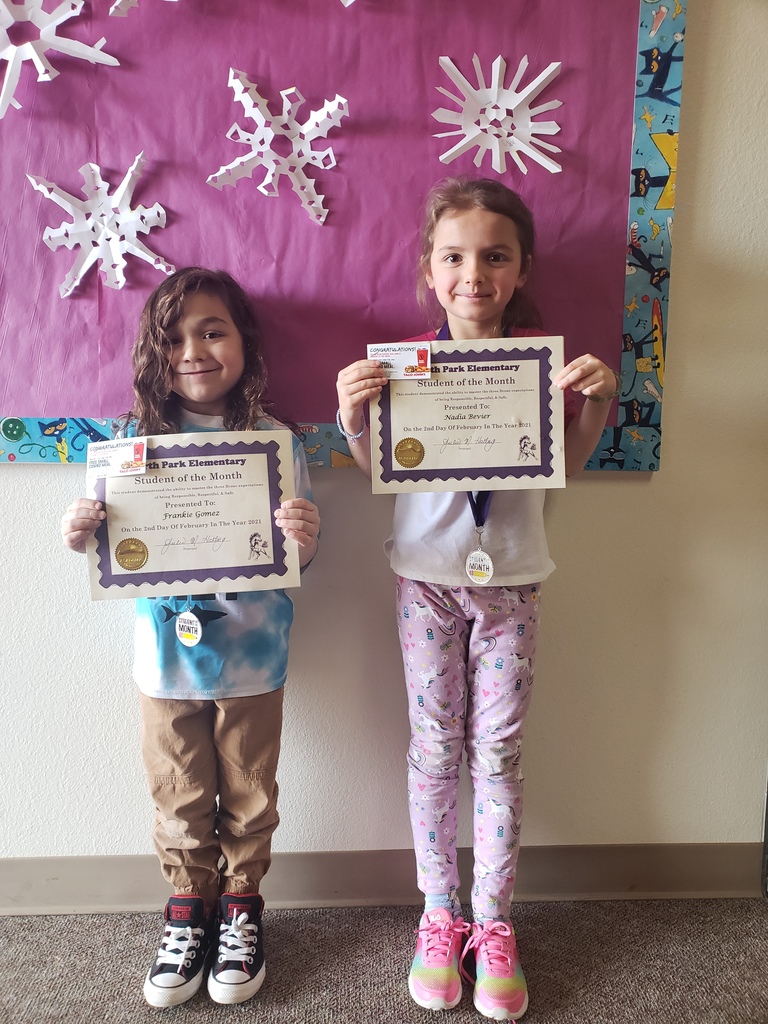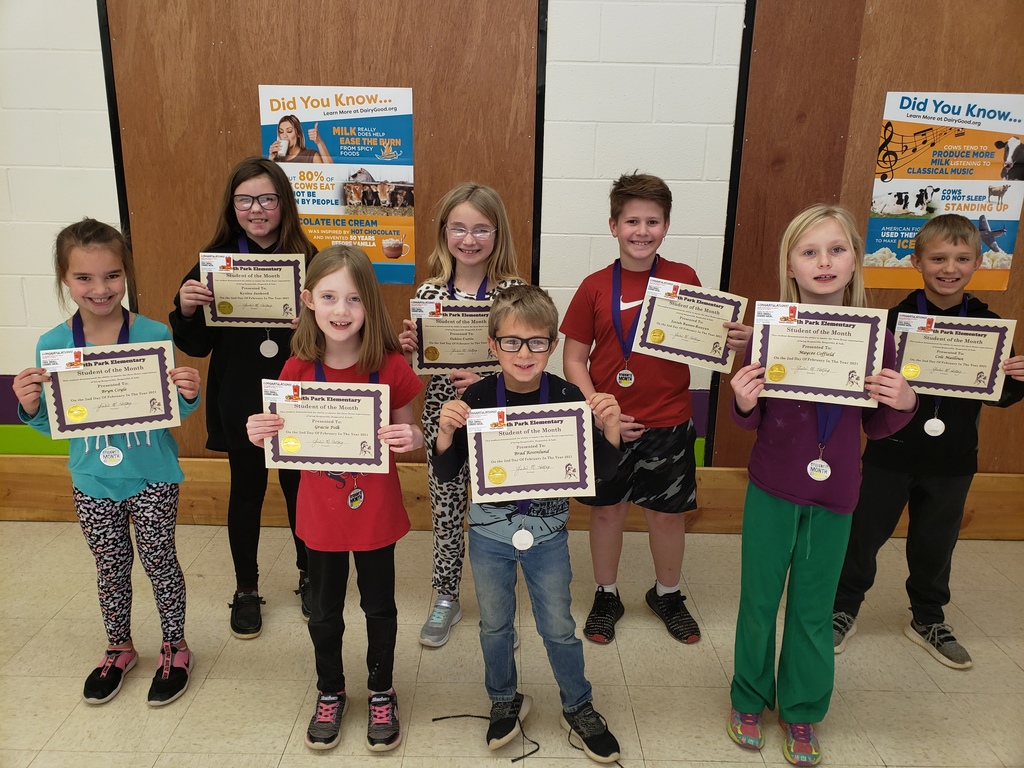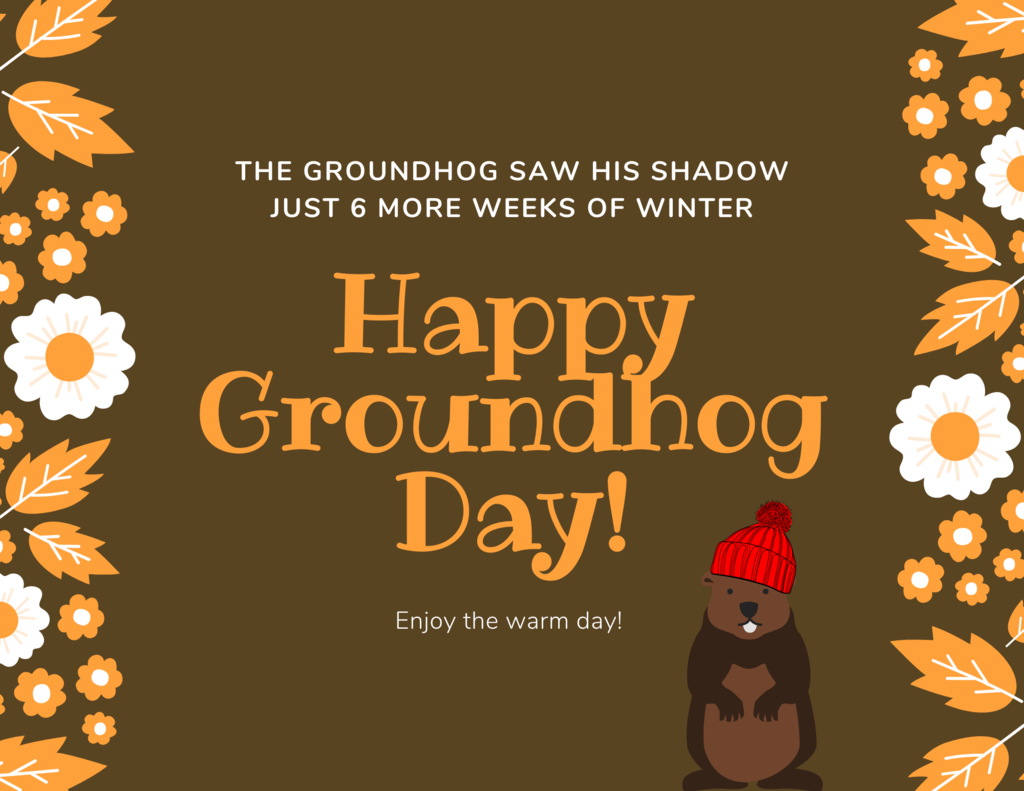 South Park students celebrated The Great Kindness Challenge this week by participating in the Golden Valentine Project during their Guidance class. Mrs. Coulter will be delivering the special handmade cards of love to the local Nursing Home and Assisted Living Center in Belle Fourche.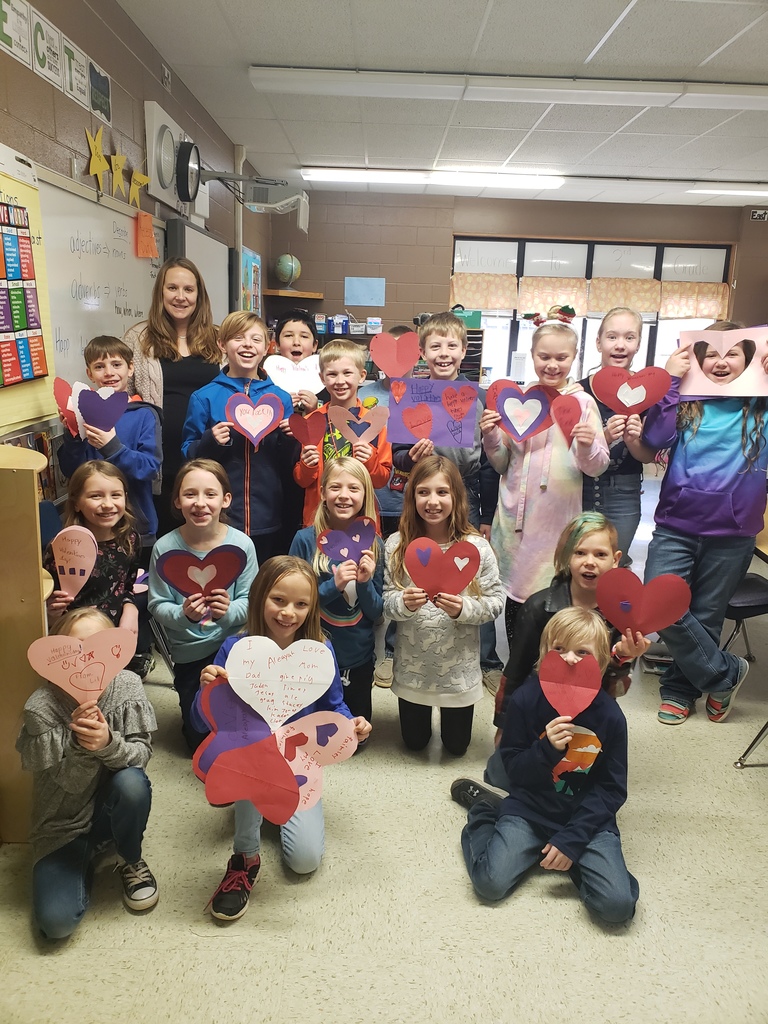 Team Jersey Day!!! Wear your favorite team Jersey on Thursday, February 4!

Menu change for 1/28/2021: Instead of "Pancake sausage stick" they will be serving "pancakes" Instead of "Taco in a bag" they will be serving "mini corndogs"

It's never to late to celebrate!! We missed posting the November Students of the Month. Here they are: Jeremy Merjil, Everly Uttecht, Carli Knuteson, Kyler Schmidt (Not Pictured), Grace Long (Not pictured), Tessa Dennis, Madisyn Vansickle, Raina Reder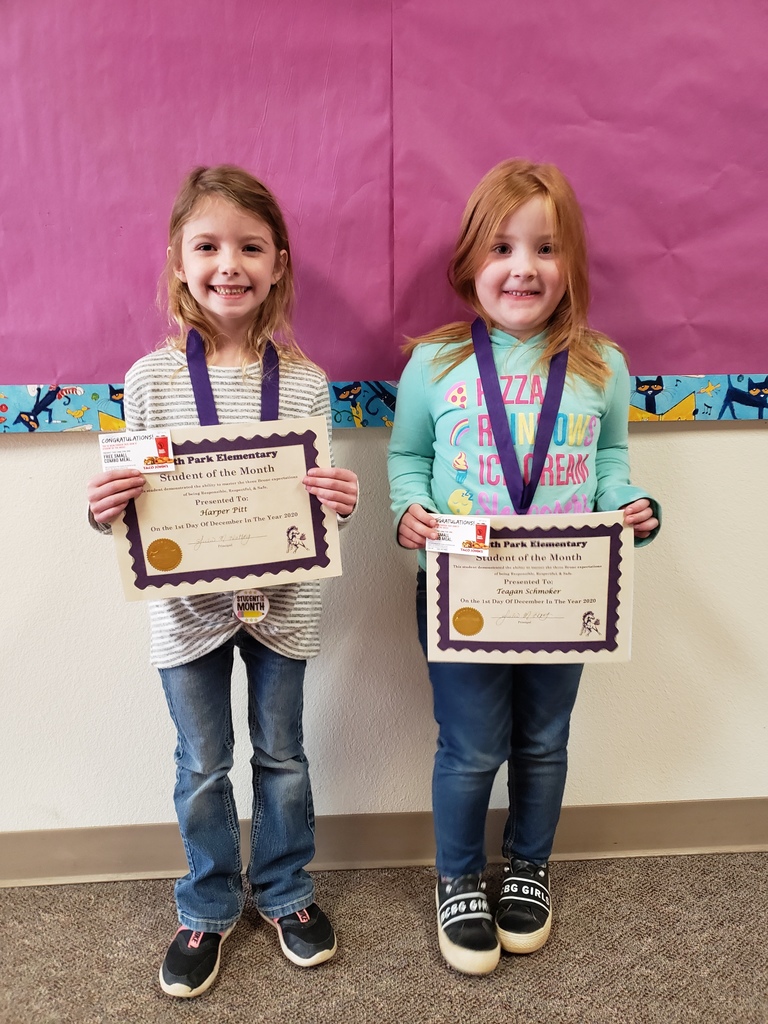 South Park Elementary is proud to announce the 2020-2021 Student Council representatives. The representatives are selected by their peers and are as follows Alexis Allart, Avery Coyle, Kasey Dobesh, Owen Hatling, Aaliyah Johnson, Isabel Jones, Ellie Kukuchka, Raina Reder, Madisyn VanSickle, and Braiden Wallace. Student council members will encourage school spirit and abide by the 3 B's; Be Respectful, Be Responsible, and Be Safe. Student Council members will do intentional but random acts of kindness, help to create a bully free school, and lead celebrations of principal and teacher appreciation day. Student council members will also give tours to new students and represent South Park as opportunities arise.

Congratulations to the December Students of the Month: Claire Kitzmiller, Kortney Dobesh, Tymber Patterson, Kaezlynn Jones, Tristan Wishard, AnnMarie Luna, Kylie Bidwell, Kaylee Foley, Kaylynn Bohm, and Willow Stephens.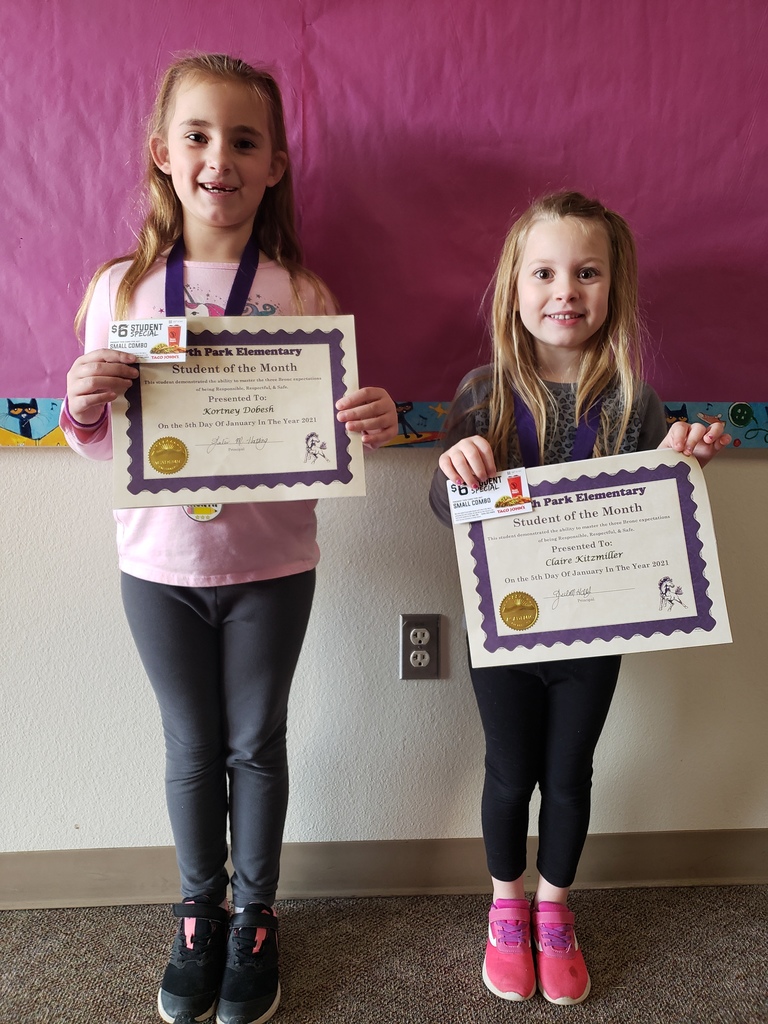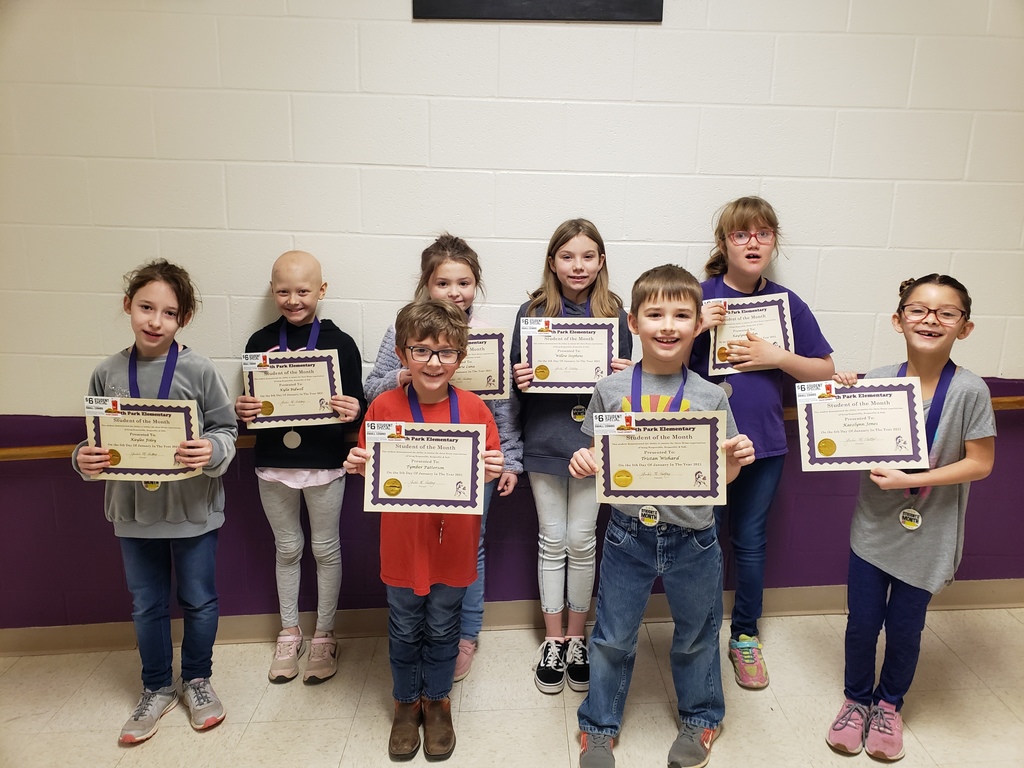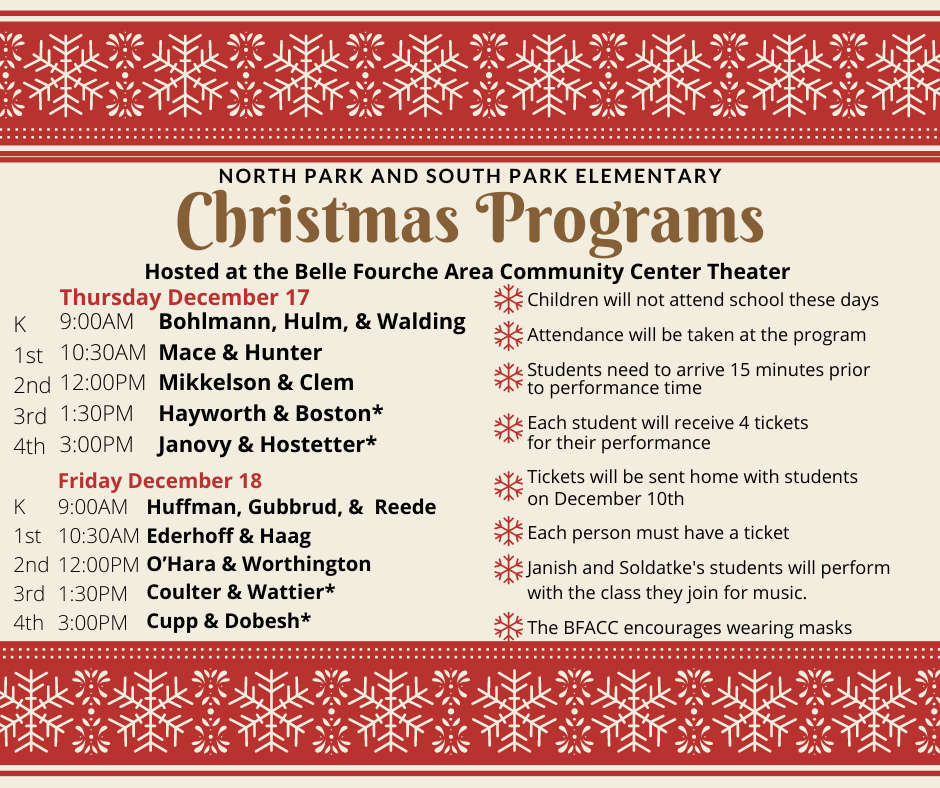 Elementary Jolly Days of Christmas Dec. 9 Deck the Halls & Hat Day (Accessories, garland, tinsel, bells, socks) Dec. 10 Holly Jolly Christmas (Green, red, or Christmas wear) Dec. 14 Winter Wonder Land (Fleece, scarf, sweater...) Dec. 15 Christmas Sweater (Ugly or cute) Dec. 16 Where are you Christmas (Grinch or PJ Day) Dec. 17 & 18 Rocking Around the Christmas Tree (Dress in you Christmas best)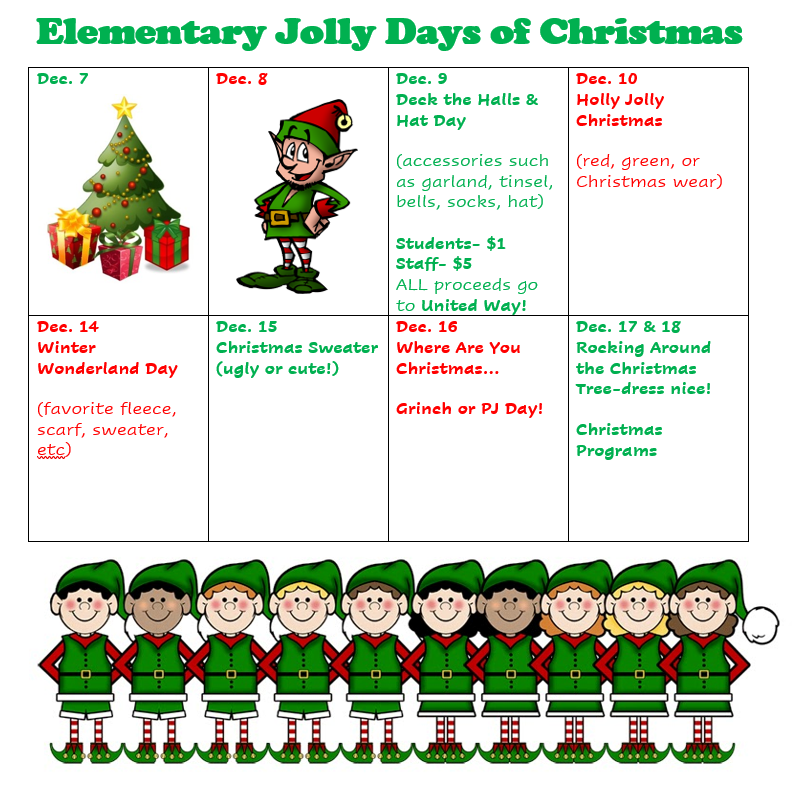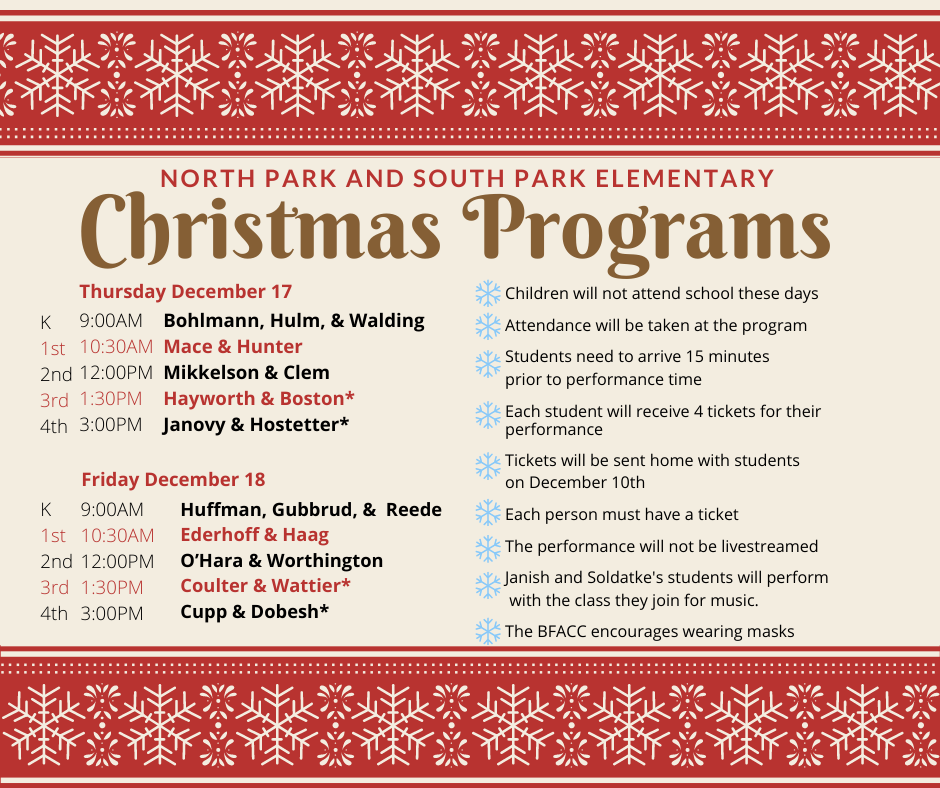 There will be a 2nd picture retake tomorrow, November 24. Ask your student's teacher for a picture retake form if you would like to have your student's picture taken.

Monday: "On the HUNT for a great education" - Hunter Orange/Camouflage Day Tuesday: "Hats off to education" - Hats/Western Day Wednesday: "Exercise changes your body, brain, attitude, and mind" -Workout Day Thursday: "Celebrate Belle Fourche Schools" - Purple and White Days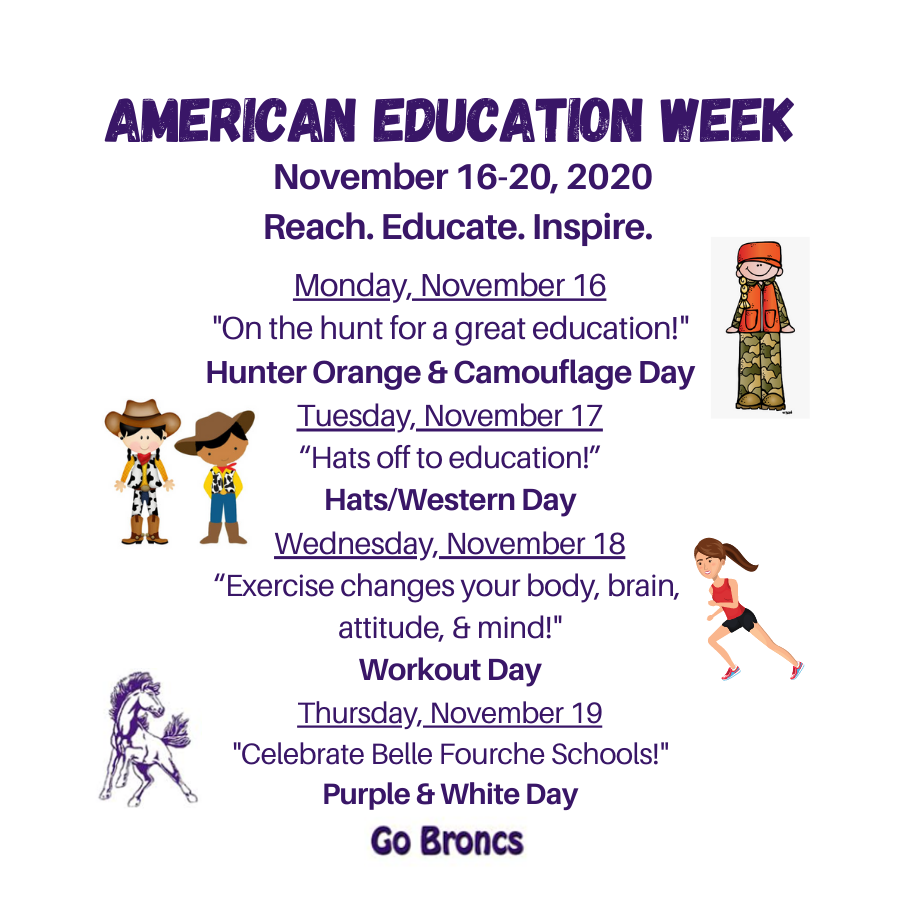 Virtual South Park Veterans Day Program Belle Fourche Elementary Website November 11, 2020 @ 8:00 until December 1, 2020