For School Year 2022-23 : All returning students in grades K-12 must register online. Make sure you click RETURNING STUDENT registration. Link will be available on the District website beginning July 27 with a deadline to register of August 4 for returning students. Upcoming kindergarten students who registered this past spring do not need to register again. All New to the District students (even students who have left and are returning this year), please click on the New Student Registration under the Parent section on District website. If you have questions, please contact our District Office. Thank you.

Dismissal times for May 26, 2022 (last day of school): North Park – 10:45 AM South Park – 11:10 AM Middle School – 11:30 AM High School – 11:40 AM The buses will run according to this schedule. No lunch will be served on the 26th.

The Delta Dental Mobile will be here at the Saint James Episcopal Church on May 16, 2022. For more information and registration please contact the Community Health Office at 605-892-2523. Thank you.

2 hour late start, buses will run 2 hours late - no breakfast will be served

Two hour late start for Belle Fourche schools. Buses will also run two hours late.

Dear Families, The Belle Fourche School District is aware of a troubling post that has been shared widely this week on the social media platform TikTok. The post refers to a threat to school safety "for every school in the USA, even elementary," on Friday, December 17. The post appears to be part of a national TikTok trend and did not originate in our School District. While we do not believe the threat to be credible, we want you to know we are aware of the threat and are monitoring the situation. Additionally, the District has been in contact with the Belle Fourche Police Department regarding the post. We will have increased police presence at or around our buildings on Friday as an added precaution. Thank you, Dr. Steve Willard Belle Fourche School District Superintendent

3rd Annual Belle Fourche Community Closet - October 25th from 12:30 to 6:00 pm at Venue 519 - everything is free, clothing of all sizes, shoes, bedding and housewares. Everyone is invited and there are no income requirements. Donations can be dropped off the day of the event from 8 to 11 am. For more information, see District FB page or call Jeanne McKenna at 801-231-3998 or Stephanie Musilek at 605-723-3350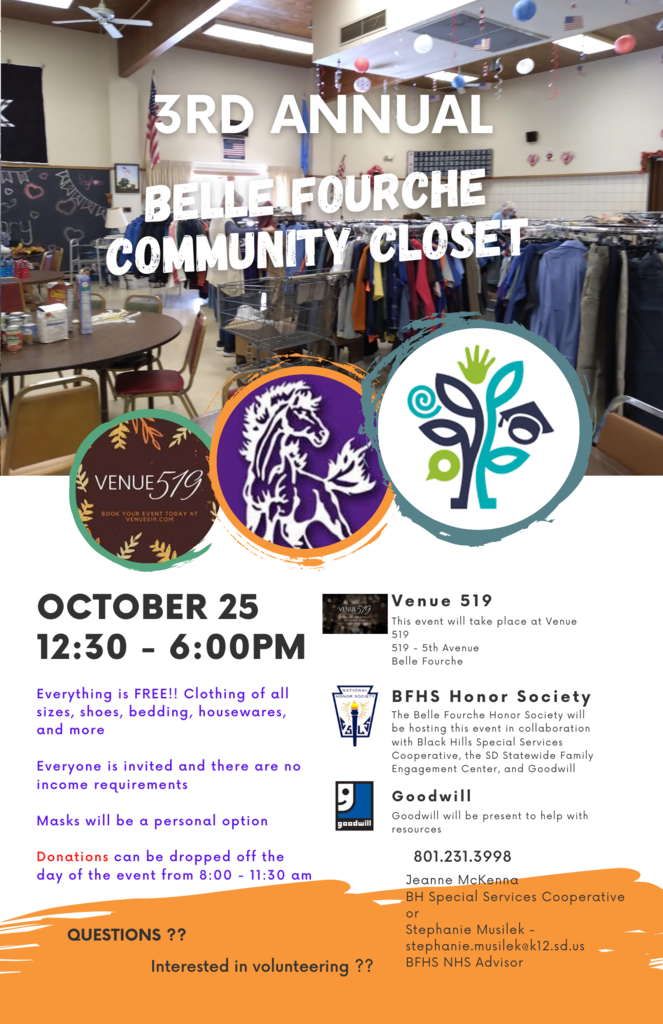 There will be a two hour late start Thursday, October 14 for Belle Fourche Schools. Buses will travel in town routes only.

This all-call is scheduled to go out at 6 pm on Oct. 12, 2021: Due to hazardous road conditions and no travel advised in the northern hills, the Belle Fourche School District will have a distance learning day tomorrow. Students will stay at home to work on assignments on Wednesday, October 13. There will be no after school programs tomorrow. Varsity practice may happen if the weather breaks. Coaches will contact athletes.

Reminder: the 2021-22 Back-to-School Newsletter with the supply lists and other important information is available under the document section - documents - parents or click link
https://5il.co/wir2

The Reopening Plan for 21-22 is updated and posted under the document section for review. View at
https://5il.co/vdfj

Dismissal times for May 27, 2021 (last day): North Park – 10:45 AM South Park – 11:10 AM Middle School – 11:30 AM High School – 11:40 AM The busses will run according to this schedule. No lunch will be served on the 27th.

SCHOOL BUS PATRONS INVITED TO MEETING The transportation committee of the Belle Fourche School Board has announced that there will be a bussing meeting in the ADMINISTRATIVE OFFICES of the BELLE FOURCHE SCHOOL DISTRICT 2305 13th Avenue (southend of Middle School) ● 6:30 p.m. ● Monday, April 26, 2021 The purpose of the meeting is to discuss the bus routes for the upcoming school year. Those patrons of the Belle Fourche School District who are interested in possible changes in the bus routes are urged to attend. (Note: The time of the meeting has been changed to 6:30 pm from 6:00 pm - the new time will be published in the Beacon and Pioneer on April 21st) Please publish: Black Hills Pioneer April 14, 2021 April 21, 2021 Belle Fourche Beacon April 14, 2021 April 21, 2021

Unofficial School Board Election Results: Tara Knapp 719 Nita Justice 619 Greg Krajewski 377 Lee Capp 350 Lori Tokley 336

Two hour late start in Belle Fourche schools today, Monday, March 15th

Message going out to all Parents all-call on 2/10/21 at 5:15 p.m.: Due to forecasted extreme cold temperatures for the rest of the week, all education in the Belle Fourche School District will be done virtually on Thursday, February 11th. That means your classes will be done at home, virtually, not in the school buildings. Computers were sent home with all students. Your student's teacher will be in contact with you at the Elementary level. This is considered a day of learning and students will need to complete tasks assigned by their teacher, attendance will be taken and school starts virtually at the regular school times. All activities, practices and after-school programs are cancelled for Thursday. Intersession is cancelled for Friday. There will be no meals served. There will be High School activities' practices on Friday. Coaches will notify their athletes of the time. Also, remember there is no school on Monday, February 15th, for President's Day. Thank you and stay warm.

Remember, if your child will not be in school on these days face to face learning, you must pre-order free breakfast and lunch sack meals to be picked up on Thursday, December 17th and/or Friday, December 18th by Tuesday, December 15th. Go to the school website and click on the Food Service link. Then complete the meal pre order. You will pick up those meals at the Middle School lunch room doors between 10:30AM – 11:00AM.
K-12 Connect provides eligible households with free internet access. K-12 Connect is a program designed to provide internet service, at no cost, to eligible K-12 students in their homes for the remainder of the 2020-21 school year. Eligibility is based in part on the income eligibility guidelines for the free and reduced school lunch program. Please contact the DOE at (605) 773-3248 or
k12connect@state.sd.us
. Visit k12connect.sd.gov for details and eligibility guidelines. Enrollment closes Nov. 20, 2020. The program is a joint effort of the Governor's Office, Bureau of Information and Telecommunications, and Department of Education.

Did you know the Belle Fourche School District is offering free meals/meals at no cost to all kids 18 and younger? These meals are convenient, safe and nutritious. Support our food service program while saving your family time and money. Remember that the first breakfast and first lunch meal are free, but families are responsible for second meals, ala carte and extra milk purchases. Learn more by visiting our website at
https://www.bellefourche.k12.sd.us/page/food-service
or calling 605-723-3355 option 4.